A diagnostic sonographer (also called an ultrasound technician) has a fast-paced day filled with many surprises as they help people with a diverse array of medical challenges while serving a wider community. These professionals work in a variety of settings, from doctors' offices to medical laboratories.
What is Diagnostic Medical Sonography?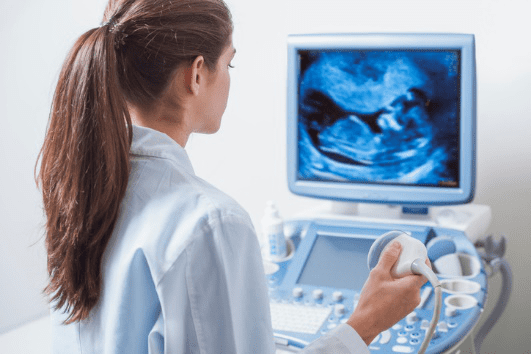 According to the Bureau of Labor Statistics, Diagnostic medical sonography involves using a special equipment called an ultrasound transducer to direct high-frequency sound waves into several parts of a patient's body that are being examined to produce images.
What does a Sonographer do?
A sonographer uses the specialized equipment to generate images used for assessing and diagnosing various medical conditions. They play an important role in modern medicine and work closely with physicians. Learn more about the skills that make a great sonographer here.
Career Prospects
Sonographers can consider studying various specialization options, including abdomen, breast, vascular, and cardiac sonography. It's among the fastest-growing healthcare jobs available. U.S. News rates this career in their 100 Best Jobs feature — and it is awarded the 26th spot. Also, according to Bureau of Labor Statistics the job growth from 2014-2024 is expected to increase by approximately 26%, which is considered much faster than the average for all jobs.
Employers prefer to hire sonographers who have professional certification. Sonographers certified in more than one specialty are expected to have the most favorable job prospects as employment of sonographers continues to grow.
Working Environment
A sonographer works directly with patients. Most of the work is done at diagnostic imaging machines in dimly lit rooms, but may also perform procedures at patients' bedsides. They work with new technology which helps imaging.
Full-time sonographers work about 40 hours a week while in part-time they may work weekends, nights, or holidays. But due to high demand, most of them are hired on a full-time basis.
Academic Requirements
In order to become a professional diagnostic medical sonographer, students must complete an exam to obtain certification from an accredited school. After completion of the graduation requirements, students may appear for American Registry for Diagnostic Medical Sonography (ARDMS) registry exam. Medical Sonography certificate program takes 24 months to complete. It involves exciting externship where you get hands-on training which aids in improving your skill. This certification helps in fast-tracking your path to find a job and also helps you balancing your professional or family commitments.
If you've been considering a career as an ultrasound technician, you've undoubtedly got questions as to how to get started. There's a lot to learn and prepare for, and we're here to help you get started.
Do you want an education that will prepare you for certification and your career? Check out the American Institute of Healthcare Technology (AIHT Education) located in Stratford CT for excellent healthcare training programs. AIHT Education's mission is to provide students with quality training and education for successful employment in the field of Allied Health sciences and to empower them with the knowledge, values and skills needed to be continuous learners.